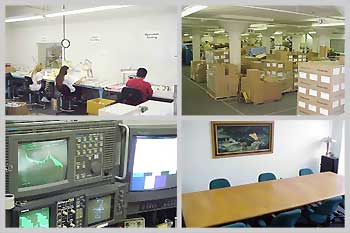 Nivie Electronics has the ability to service a full range of products that other companies cannot.
We have the technical expertise to service hi-tech equipment such as broadcast, medical, surveillance and industrial video equipment and Nivie Electronics offers a high degree of technical expertise. Most of our technicians have Electronic Engineering and Master Degrees and we warrant all of our repairs.
Nivie Electronics has built long lasting relationships with prominent companies such as Panasonic, JVC and Sony to name a few.
In 25 years we have developed many other satisfied customers who continue to avail themselves to our services and our capacity to service our clients has recently expanded with our newly acquired facilities at The Brooklyn Army Terminal, where we occupy approximately 40,000 square feet of space most of which is allocated to various production operations and warehousing.
A further function of our company is the purchase of distressed merchandise and closeout products that are reconditioned and sold primarily to Europe, Africa and South America.
Nivie Electronics provides our clients with superior service and product at cost effective prices.
Recognized by discriminating vendors worldwide for our outstanding services, call or email us today.
We're ready to prove everything that we claim.